Martin's Landing 50th Anniversary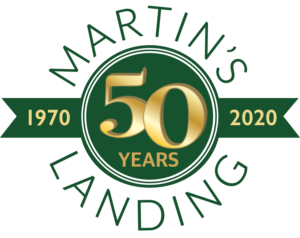 Martin's Landing is celebrating the neighborhood's 50th Anniversary in October of 2020, a milestone that will be celebrated throughout the year with a series of pool parties, concerts, special events, and more! The Martin's Landing Foundation and the 50th Anniversary Committee will celebrate "Martin's Landing Golden Treasures" including those we know so well (pools, tennis courts, River Lodge, lake, and trails) but also some of our lesser-known neighborhood treasures.
The 50th Anniversary planning committee has been hard at work and has put together a tentative plan for celebrating the ML 50th Anniversary:
Kick-Off Event – 70s Party – February 29, 2020 – 7pm – River Lodge
North Pond Pool Ribbon Cutting and Large Pool Party – TBD
River Pool Party – TBD
Trail Walk – postponed to August
Lake Pool Party – TBD
Pencils and Popcorn EJE Fundraiser – TBD
Final Event – Homecoming – October 24, 2020
— Large Event in the late afternoon/evening in front field – food, band, activities for kids, booths, etc.

In order to commemorate Martin's Landing's 50th anniversary, the planning committee would like to ask your help with the following:
Planning
Volunteers
Sponsorships
Historic Martin's Landing photographs
Your personal stories from the 70's and 80's in Martin's Landing
Donations of large prizes for the grand finale Martin's Landing 50th Anniversary event (beach house weekends, large items, gift cards, services from your business, original artwork, etc.)
If interested in helping out, click on one of the options below, email us at MLF50@martinslanding.org, or attend one of our committee meetings on the first Thursday of each month at 7pm – meetings are currently being held via Zoom. Keep an eye out for articles and event details in the monthly E-newsletters, print newsletters, email, and the Martin's Landing Facebook Residents Hub Facebook group.