Martin's Landing is a community of 1965 single family homes, patio homes, condominiums, townhomes and apartments, all within 12 subdivisions. It is a town within a city. An established neighborhood in a beautiful wooded area, Martin's Landing has a great assortment of lush specimen trees and rolling hills throughout the 1030 acres.
Martin's Landing has easy access to GA 400. We are 30 minutes from Lake Lanier, minutes from Buckhead and an easy commute to downtown Atlanta. It's a smooth ride to Peachtree Corners, John's Creek and Duluth.  Head to downtown Roswell, located just a few minutes away for top notch and trendy restaurants, breweries, shops and art galleries. There are miles of bike trails nearby along the Chattahoochee or Big Creek. Hike at Vickory Creek, Old Mill Park or watch free concerts at nearby Riverside Park.  History abounds in Roswell with Mimosa Hall & Gardens and Barrington Hall. Roswell is nationally recognized with the Gold Medal for Excellence in Park and Recreation Management by the American Academy for Park and Recreation Administration.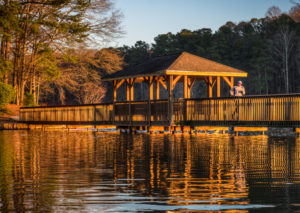 The treasures are many in Martin's Landing. It is a neighborhood with green belts, numerous walking trails, wildlife and the beauty of nature surrounding it. Creeks and ponds run through Martin's Landing, as well as the 53 acre Martin Lake. There is also another smaller lake in the North Pond neighborhood. Being so close to the Chattahoochee River, we share the wildlife, from hawks to herons, deer, raccoons, beavers and more.
A 2.4-mile walking path surrounds Martin Lake, and on any given day, rain or shine, people are out on the path running, walking, or bicycling, meeting up with others who are strolling with their babies, walking with their friends and families, or watching the turtles, ducks and fish swim by. Kayaking, canoeing and paddle boarding is a relaxing activity on the water.
"When I drive into Martin's Landing, all the worries of the day seem to disappear", one resident stated. "I look at the hills, the foliage and trees, I see Martin Lake surrounded by natures' own foliage and the pool overlooking the lake and I am home.  When night falls and the moon shines on the lake – well, there is nothing better."
Martin's Landing boasts three recreation areas including a lakeside clubhouse, swimming pools, playgrounds, three tennis court areas (15 tennis courts total and 2 are clay courts), pickleball, and the modern River Lodge, which sits right next to the Chattahoochee River. Unwind at the River Lodge pool while watching the Chattahoochee River flow by.  The community also has its own award-winning school, Esther Jackson Elementary.
The neighborhoods are all active and busy with seasonal parties, active tennis teams affiliated with ALTA, many, many community events, and volunteer opportunities. Our kid and adult swim teams are very popular.
Martin's Landing's lands, greenbelts, and amenities are supported and maintained by the Martin's Landing Foundation; a non-profit corporation consisting of all Martin's Landing property owners.